Who is Tact Art?

PLEASE NOTE
A family of businesses working together to offer a creative experience for you.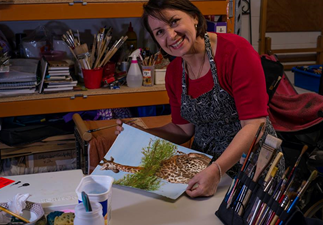 Rosy Chapman, Founder and Tutor
Is a graduate of the Brisbane Institute of Art Fine Arts program, Sophia College Artistic Therapies Certificate.
Has successfully held several solo and 'collective' art exhibitions and achieved recognition.
Has been formally studying painting and other forms of artistic expression for more than 10 years but informally in other arts since childhood.
Is generous with her knowledge, time and skills and feels life is a journey of continuous learning.
Will soon be offering beginner lessons for piano and violin.  (none of us is too old to learn something new).